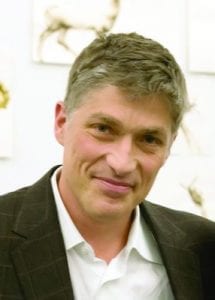 NNC is honored to host artist Alexis Rockman in a presentation of his new series: The Great Lakes Cycle. Rockman is a contemporary painter who created the "Manifest Destiny" mural – a stunning futuristic landscape whose imagery is a focal point of Nurture Nature Center's Science Hall.
Alexis Rockman synthesizes human history, natural science, and landscape painting to create visual vistas that reveal unexpected relationships across time and space. Since the mid-1980s, Rockman has created a dramatic and distinct body of epic-scale paintings and works on paper that draw from his deft artistic skills, rich visual inventiveness, deep scientific awareness, broad art historical knowledge, and a passionate concern about the earth's ecological future.
His most ambitious work to date, The Great Lakes Cycle  series celebrates the natural majesty and global importance of the Great Lakes while exploring how they are threatened by factors including climate change, globalization, invasive species, mass agriculture, and urban sprawl.
Presentation begins at 7pm and is free and open to the public.