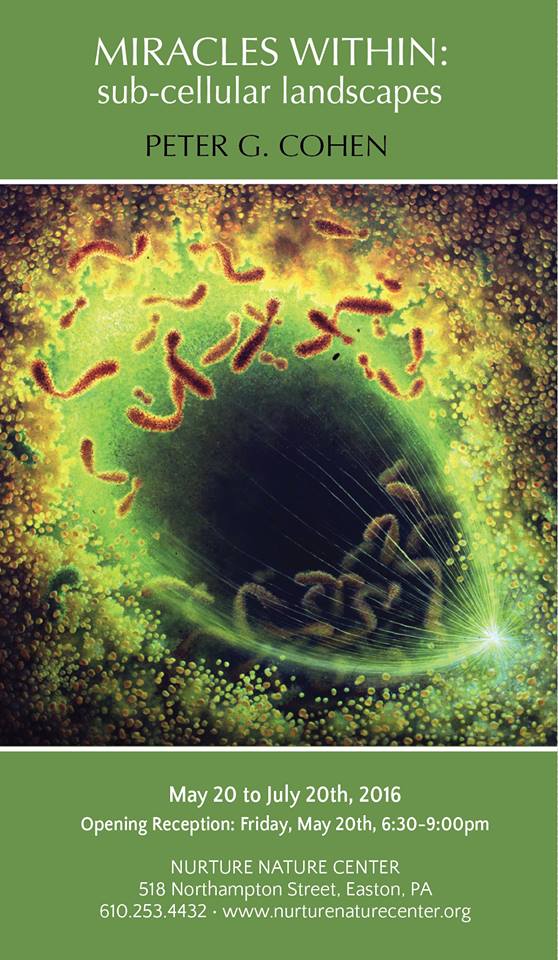 Miracles Within: Sub-cellular Landscapes a solo exhibit of the work of the late Peter G. Cohen will be featured in the Science Hall Gallery at the Nurture Nature Center (NNC), Easton, PA starting May 20th. This show will exhibit a series of large paintings of sub-cellular landscapes that explore the power and mystique of human conception and the artist's reverence for life in a world threatened with environmental degradation. The work in this series is magical yet fragile a reminder of the unbelievable beauty of all life as well as the responsibilities we face in protecting it for future generations.
Peter G. Cohen, a World War II veteran, writer and long-time advocate of the environment, received his formal arts education at the School of the Art Institute in Chicago, Illinois, and the University of Chicago. He studied mural painting in Mexico City with students of Diego Rivera and then moved to India in the late 1940s, where he painted murals. During the 1950's and 60's, Cohen painted murals in New York City and throughout the country. During that time he also travelled extensively, painting his way across Appalachia documenting the coal miners with their families and the Lehigh Valley paying homage to the steel industry and its workers.
As Peter Cohen grew increasingly interested in social justice, his paintings became more symbolic. In the 1970's, the artist was searching for a way to express the interrelatedness of all things. A book lent by a friend sparked the artist's interest in working with microscopic subject matter. That book contained tiny black and white micrographs of ultra-thin cell sections. Peter Cohen saw much more; he saw the sacred landscapes where life was beginning. Adding light, color, and a sense of depth, he brought the unseen world of cell structure and the conception to life onto huge canvases. Decades before 3D computer generated imagery, his paintings allowed us to enter the worlds where life is just beginning. He seems to be asking us to enter this unseen world that is within each one of our cells. One of these works was published as the cover of Science magazine in 1987, and others illustrated scholarly articles in Europe and Asia.
The paintings also express his concern for the future of life, which is threatened by nuclear disasters, environmental toxins and climate change. In 2014, Cohen wrote, We, who have conquered every corner of the earth and touched the moon, cannot believe what is happening before our eyes. As temperatures rise, storms intensify and hurricanes, tornadoes and typhoons rip apart our homes and wash away our people. Cohen, however, does not leave us with a message of despair, Reverence for Life is the attitude that will make it possible to overcome the obstacles we face. …We must consider the whole group, the community, the nation, humanity and all life if we are to survive. If we maximize human development rather than market development, we will grow in personal richness and satisfaction without excess possessions.
Peter Cohen also co-founded LEPOCO, a Lehigh Valley peace organization that is still very active. In honor of this association, we are pleased to exhibit the winners and a digital show of entries in the 2015 LEPOCO Poster Contest, Picture a World Without Violence, a contest that was open to middle and high school students throughout the Lehigh Valley. This display will run concurrently with the Peter G. Cohen exhibit.
Join us at an opening reception held, Friday, May 20th 6:30 – 9:00. The exhibit will run through July 20th.