NNC's Executive Director Rachel Hogan Carr facilitated a discussion among 200 participants from across the Lehigh Valley, who gathered at the Jewish Community Center in Allentown on Thursday, February 20 as part of the Lehigh Dialogue Center's 16th Annual Friendship Dinner, titled:  The Water We Share. The participants learned about flooding risk in the region from keynote speaker Professor David Brandes of Lafayette College, and then heard from interfaith leaders about the faith communities' understanding of obligations to the environment.  Following these presentations, Carr facilitated round table discussions about the participants' priorities on flooding and water issues.  NNC's project assistant, Lauren Fosbenner, served as a table facilitator at the event.
The facilitation section of the evening employed NNC's Risk to Resiliency process designed to help residents and community leaders jointly learn about and deliberate on topics of environmental importance.  The annual Friendship Dinner, hosted by the Lehigh Dialogue Center, is a chance for interfaith learning and discussion; this year's event, focused on climate and flooding, was coordinated by Sierra Club Pennsylvania Chapter – Lehigh Valley. Thanks, Sierra Club, Lehigh Dialogue Center and Jewish Federation of the Lehigh Valley, and the Lehigh Valley Conference of Churches for an excellent and important evening!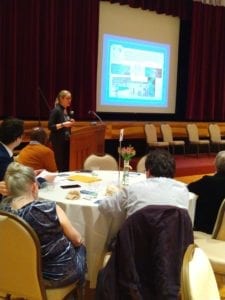 NNC  Executive  Director  Rachel  Hogan  Carr  presents  at  the  Lehigh Dialogue Center's Annual Friendship  Dinner  on  Thursday  February  20th,  2020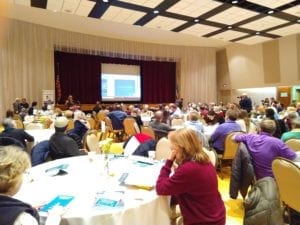 Attendees listen during the Annual Friendship Dinner in Allentown organized by the Sierra Club.