Two goals of the Spotlight on Community series are to bring attention to the variety of organizations and individuals in our local area who are committed to addressing issues of the environment and sustainability and to connect readers to local opportunities to make a difference regarding a problem or area they are passionate about. The organization we are highlighting this week, the Alliance for Sustainable Communities (ASC), performs a similar function of helping sustainability-minded organizations and individuals to network and amplifying their work, while simultaneously leading projects of its own, including a community-focused internship program.
The Alliance was founded in 2003 with members interested in addressing a broad range of issues, from government to war and peace to food and energy. They currently list 14 areas of focus on their website and the following overarching goals:
Protect the natural environment on which our communities depend
Protect and extend fundamental rights and opportunities throughout the range of human diversity
Promote broad, meaningful participation in decision-making to advance community interests and ensure that communities can assert their rights as a higher priority than those corporations claim for themselves
Foster strong local economies that provide secure and fulfilling livelihoods, foster enjoyable community life, work in harmony with nature, and strengthen the viability of independent local businesses and farms
Encourage people to consume food that is whole, locally produced, and grown in ways that sustain and rebuild soil, water, wildlife, vegetation, and the lives of all of us
Promote discussion, education, and understanding of ways to maximize the health of individuals and communities.
How can one group tackle so much? A unique strength of ASC is that it isn't just one group. As the name suggests, it is truly an alliance of individuals, organizations, small businesses, and farmers each working in their own areas but coming together to see how their work can contribute to a larger goal of building sustainable communities. To accomplish this coordination, the Alliance regularly publishes a booklet, Sustainable Lehigh Valley, with directory listings for sustainability-related organizations, maintains an online directory, organizes working groups around issue areas that are of interest to Alliance members, and runs a newsletter and event calendar to keep people informed about sustainability happenings across the valley.
The next edition of the Sustainable Lehigh Valley booklet for Fall 2020 will include more creative content, including art, poetry, short essays, and more. You can submit your own work to be included. Previous years have addressed a wide variety of topics, including global warming, healthy food, education and schools, gender equality, militarism and war, and social justice.
The Alliance also brings together community partners and students at local universities and colleges for internships on a wide variety of topics. This summer, students worked on an Editing and Publishing internship to create the next edition of Sustainable Lehigh Valley, a Sustainability Commons internship organizing a private website for people to engage with others on particular issues, and a Community and Restorative Justice internship looking into policing and justice. Student interns also were involved with the working group for the Bethlehem Climate Action Plan, providing input on the feasibility of proposed actions and reviewing the plan through the lens of environmental justice. This fall the Editing and Publishing internship will be offered again, along with a Food and Food Justice internship.
Peter Crownfield, who coordinates the internships, emphasizes that they are not just an opportunity for students to complete academic research in their area of study, "but to get out and talk to people in the community who are dealing with a particular issue, to explore ideas and perspectives that are new to the student, and to use research and analysis" to draw conclusions and provide the community with a meaningful result (quote from WDIY interview). This involves a lot of interaction with community leaders and engaged residents. "We scan national data and news," says Peter, "but most of our research is with local people." This helps the interns produce reports and recommendations that are specifically designed to be applied in the context of the Lehigh Valley, making their insights and analysis as actionable as possible.
This summer's Community and Restorative Justice internship faced the challenge of connecting with local partners during COVID-19. Nevertheless, thanks to Zoom and the flexibility of the community members they talked with, Sarah Bender, one of three Lafayette students who took part in the internship, remarks that "the best information and resources I got through this project were from seeing the experiences of others. I made some great connections, including with the Superintendent of the Bethlehem School District. He's responsible for the sixth-largest school district in the state, and so it's pretty amazing that I could make recommendations to him about the curriculum and feel like he was taking them seriously." The Community and Restorative Justice internship also exemplifies how the Alliance's model takes students' interests in national and global issues and gives them an opportunity to engage with those issues locally. Though the internship began before the widespread national conversation on policing and racial justice in the wake of the killing of George Floyd, as the summer went on Sarah and other interns were engaging with college and university police officers, the head of the International Institute for Restorative Practices in Bethlehem, an ACLU Policy Advocate, and many others as those larger conversations were occurring. They were able to tackle the question of how those national issues are experienced in the Lehigh Valley and what could be done here in response. Similarly, students with interest in climate change who got involved in the Bethlehem CAP working group looked at how the global issue of climate change interacts with Bethlehem's unique characteristics and suggested future policies and programs based on that.
The Alliance's work is a great example of the interrelationships between the environmental, social, and economic aspects of truly sustainable communities. Sarah points out that the "communities" in the Alliance's name are as important as "sustainability," which brings to mind climate change and the environment, but less often economic or social issues for most people. "The scale of environmental issues is such that you need those community connections – it's not going to be solved by just one person," she says. In the 17 years since the Alliance was founded, Peter has seen an increase in people's understanding of the holistic nature of sustainability, especially among students. Peter uses the example of food to describe how sustainability encompasses a range of interconnected issues – the Alliance lists food as a focus area, in part because of the implications our diets have for climate change and the environment, but also to combat food deserts, improve health, and address equity concerns. "It has a community impact too," he says, "it's all connected." Through its work the Alliance strives to ensure that the many entities working to build more sustainable communities are as interlinked and reinforcing as the issues they seek to address.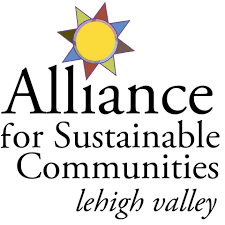 View the Alliance's current directory listings here.
If you are interested in submitting sustainability-related writing, artwork, or some combination thereof to be featured in the next Sustainable Lehigh Valley booklet, visit sustainlv.org/slv-guidelines or contact slv-editors@sustainlv.org with any questions.