The Boys and Girls Club helps kids grow. It helps them grow as people, but it also helps them grow fruits and vegetables, and a new community garden will provide an opportunity for them to do so using better tools with more space. Dean Young, Executive Director of the Boys and Girls Club of Easton (BGCE), discussed the project, which will create raised garden beds in the front of the Club on Charles Street and add a greenhouse and shed. The intention, he says, is to provide a valuable learning opportunity for the children he works with, and to provide the fruits and vegetables produced in the garden to those who need it most at no cost.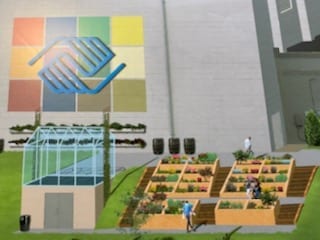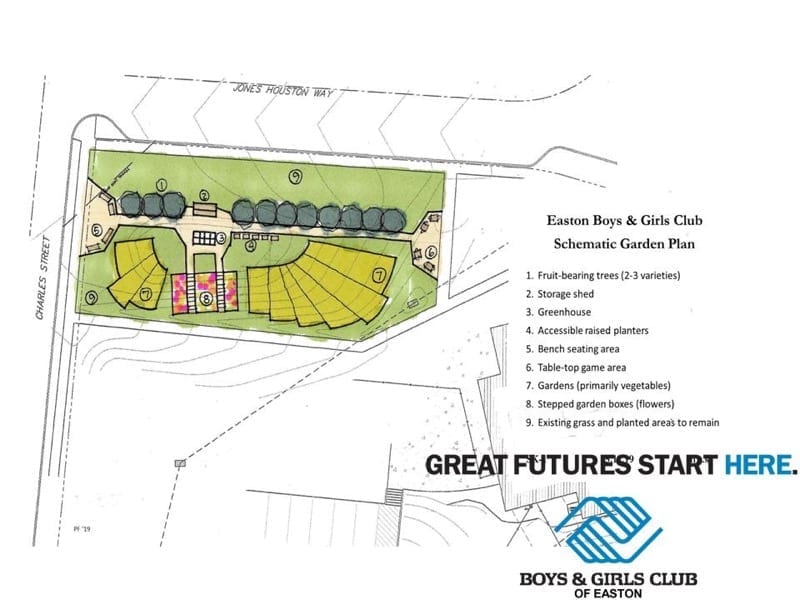 A concept plan and rendering of raised beds and a greenhouse for the Boys and Girls Club Community Garden.
The garden is a continuation of both the Boys and Girls Club's Healthy Habits program, which "emphasizes good nutrition, regular physical activity and improving overall well-being," and the Easton Area Neighborhood Center's work with the Easton Urban Farm (located behind the Center on the South Side of Easton). The Easton Area Neighborhood Center is a non-profit organization that assists low-income residents of the Easton area through housing and nutrition programs, in addition to running the farm. Last year, children from the Boys and Girls Club came to visit the Urban Farm, explains Ross Marcus, Executive Director of The Neighborhood Center. They not only learned about how to garden, but also to appreciate where the fruits and vegetables they see at the grocery store come from. The Neighborhood Center's experience with the farm and long-standing partnership with the BGCE made working together on the community garden project a natural fit. It also came at a great time as The Neighborhood Center now has a Master Gardener on staff who is able to lend his expertise to both the Easton Urban Farm and the Boys and Girls Club Garden. "This project is building on what has already been done and makes both programs stronger in the future," says Ross.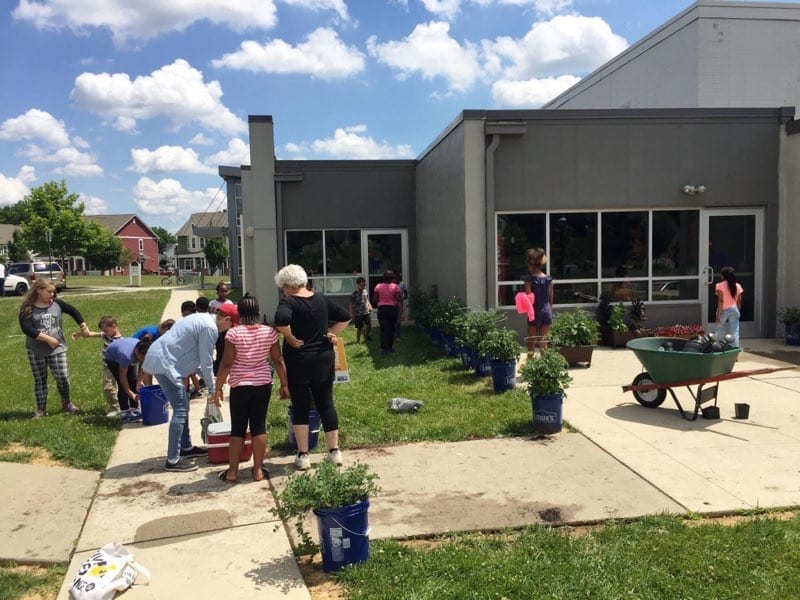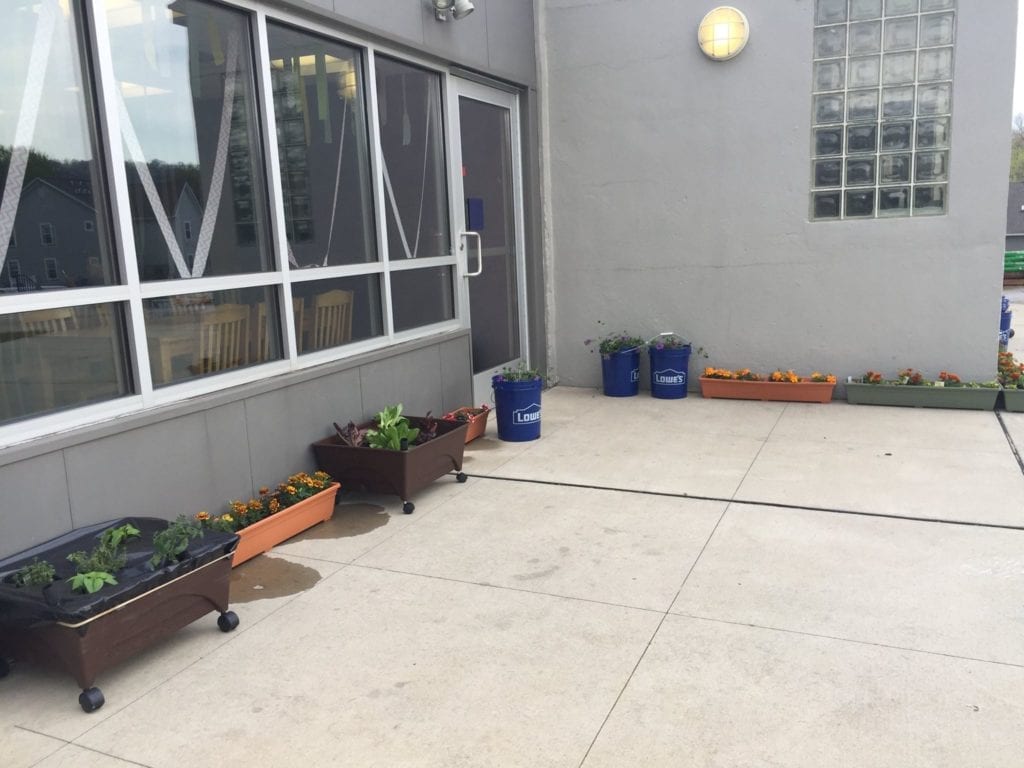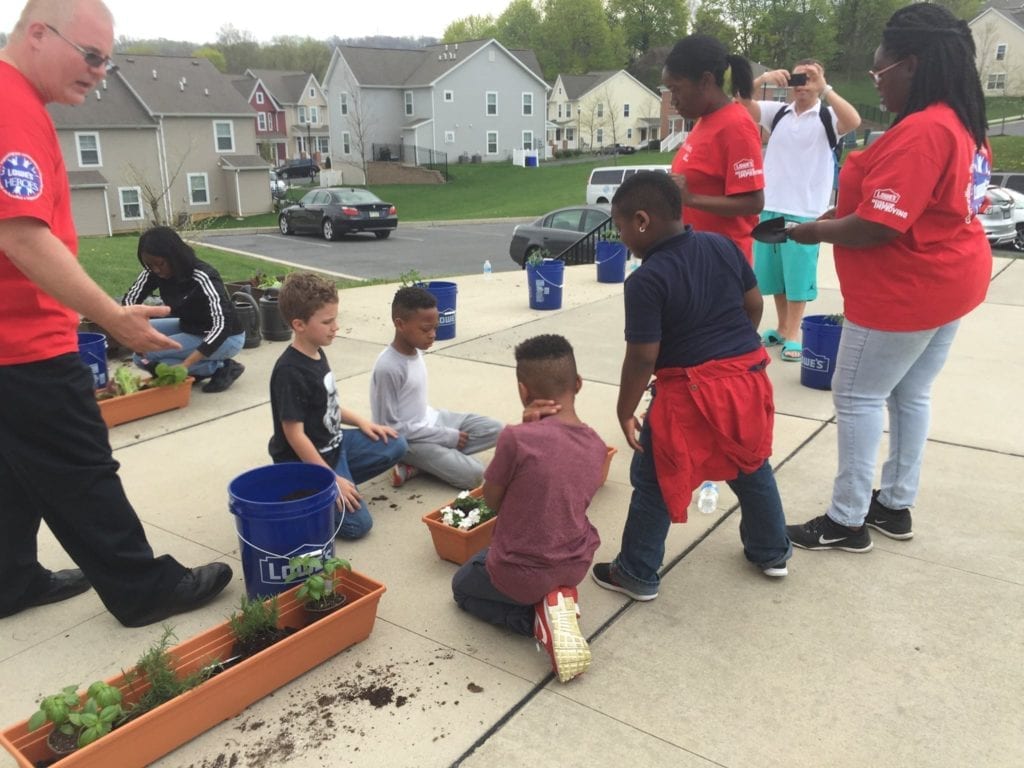 Previous years have seen a lot of energy from community volunteers, Lowes employee volunteers and the children at the BGCE for container gardening.
Dean Young also pointed out that this effort will be complementary to other efforts in Easton and the Lehigh Valley – the Easton Hunger Coalition, Lafayette's "LaFarm," and an existing garden at Crayola's plant in Forks – and will help to eradicate the food deserts that exist. This has long been a need that the Boys and Girls Club works to address, previously through container gardening efforts that used buckets and planters to grow vegetables from start-up plants – tomatoes, peppers, cucumbers, etc. – provided by community members. Becky Goldenberg, a regular BGCE volunteer, worked on these container gardens with the children once a week. "It was basically just me and the kids the first year," she says, "I really just wanted to get their hands dirty and get them interested." Becky explains that the bucket gardens showed it is possible "to get children used to being outside and be comfortable, all without having to buy many supplies." It was enjoyable for children to have this semi-structured time outside, interacting with dirt and plants, and learning about nature, and so the program kept growing. When the opportunity emerged to design a garden with raised beds, Dean worked with architecture Professor Paul Felder and students from Lafayette College to create a concept plan. Work on building the garden has begun – see current progress below. "We are grateful for the contributions, grants, and in-kind services totaling more than $85,000 from local corporations, businesses, foundations, and individuals that have helped make the community garden a reality for the residents, seniors, and Club youth living in the greater Easton area," says Dean.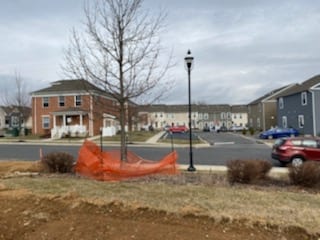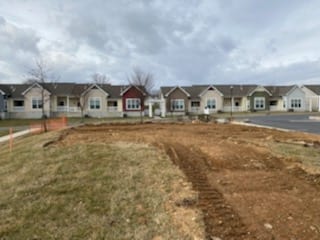 Excavation on the future site of the garden has begun!
Dean hopes that the garden will continue to serve as an intergenerational learning opportunity. "It becomes a conduit, if you will, or a human connector," he says, describing how they will work with senior citizens, kids, and partners such as The Neighborhood Center and Master Gardeners to provide both education about gardening and healthy eating and access to fresh, affordable produce. Kids work with volunteers to learn how to prepare food from the produce they grow too, and can share what they learn with their parents. Becky also emphasized the value of different groups of people working on the garden together. "They're getting to know their neighbors," she says, describing how seniors from nearby Neston Heights may get involved with the garden alongside the children from BGCE.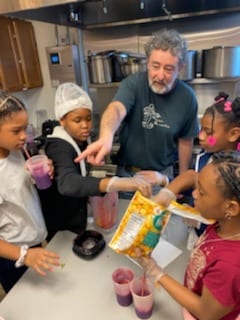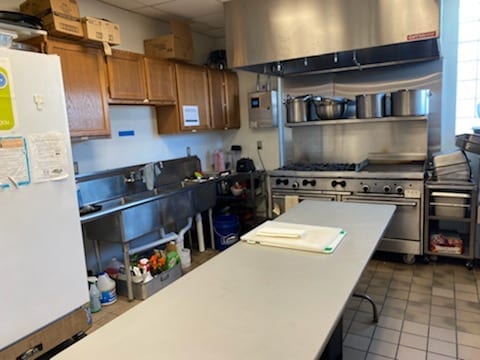 Children learn about good nutrition and gain cooking skills in the kitchen at BGCE.
Even before the garden is up and running, there are opportunities for those who are interested in getting involved to volunteer. "We are fortunate to have a dedicated corps of community volunteers representing the City of Easton, non-profits, businesses, and stakeholders who are lending their expertise by overseeing the design and construction of the garden," says Dean. There's a role for everyone! The shed will need to be painted, and volunteers will be needed to help install the shed and greenhouse. Additional opportunities for community engagement will emerge as the potential of the garden is explored – for example, community members with gardening experience may mentor kids through the growing process. You don't need gardening expertise to help out though – "things didn't always grow really well because I don't know a lot about gardening," Becky remarked, "but it doesn't matter – it's about participating with the children." For Becky, it's heartening to see that children look forward to coming and interacting with her. "I had something to offer them. It's just fun, it makes you feel you're connected with people," she said.  Among the most important needs will be finding someone to fill the position of Healthy Habits Food Program Cooking Coach, to oversee the meal program and teach cooking classes where kids learn to create healthy food using some of the produce they've grown in the garden! See a description of the Healthy Habits Food Program Cooking Coach position here.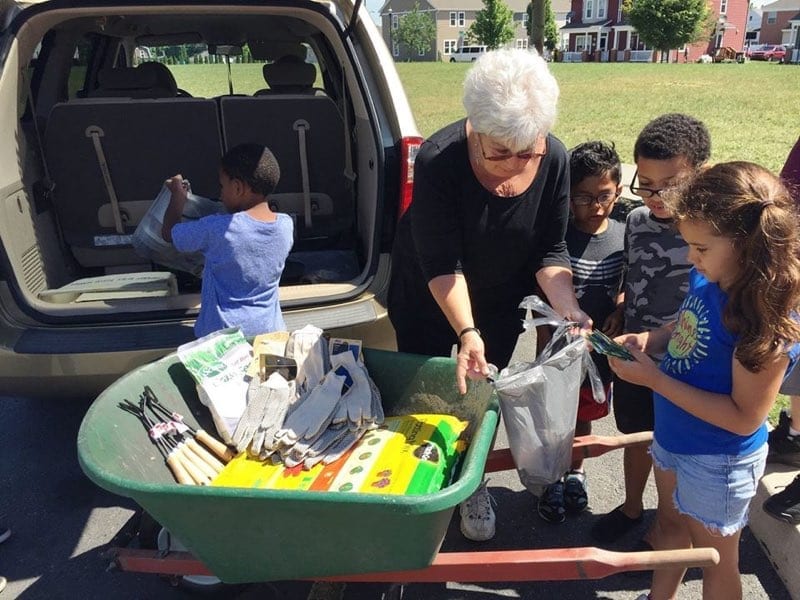 Becky Goldenberg shows young gardeners the supplies they will use to grow fruits, vegetables, and flowers.
The BGCE Community Garden project is a great example of the interrelated benefits of sustainability work. It is an educational effort for students, families, and community alike and also a source of local food. It will contribute to improved health, stronger community bonds, improved habitat for pollinators, and less miles traveled from farm to plate for the food produced. These are also outcomes each of us can work toward by gardening at our own homes, getting a plot at a community garden, or participating in Community-Supported Agriculture (a CSA). Even a single tomato plant in a bucket on a porch is part of this effort. By planting the seeds of an interest in where food comes from, the Boys and Girls Club Community Garden project is helping to cultivate community-wide access to fresh, healthy, local fruits and vegetables.  
Sponsors of the BGCE Community Garden project include:
The Pennsylvania Department of Conservation and Natural Resources, the ESSA Foundation, the Stabler Foundation, Crayola, the Baker Foundation, Robert and Regina Bryson, C&S Wholesale Grocers, St. Luke's University Health Network, the Kiwanis Club, the Northampton County Department of Community and Economic Development, C.F. Martin & Co. Guitar, Pam and Gary Weiland, and Dean and Julie Young
For a summary of some of the social, economic, and environmental sustainability benefits of community gardens, see https://www.lamar.edu/sustainability/_files/documents/Multiple%20Benefits_2012.pdf