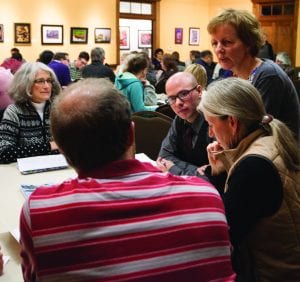 NNC's community forums foster discussion among neighbors and community leaders about issues that are pressing to the community, and provide constructive avenues for addressing those topics. NNC is well situated for leading such forums locally, due to its location at the heart of the City, and we have extensive experience in leading them, not just in Easton but regionally and nationally. Community dialogue forums that we have hosted at our facility include:
A series of local and regional forums on flooding conducted as a part of our Risk to Resiliency project
A community forum held for our Easton Matters project, designed to elicit information on the environmental priorities of different neighborhoods in the city.
An extreme weather forum for professionals involved in Emergency Management.
A forum for teachers, with a facilitated discussion on teaching about weather and climate.
An Easton Recycling forum, offered in conjunction with the Easton Environmental Advisory Council and Lafayette College.
A forum on fresh food in the Lehigh Valley.
A forum on invasive species, which offered new methods for managing invasives in the area.
A forum about raising backyard chickens in urban areas.
NNC has also assisted other Easton organizations in hosting forums that are important to them, including a forum on fracking with Lafayette College and a forum with the Easton Hunger Coalition during its critical formation period.
NNC's programming responds to important, pressing environmental topics, and we welcome input from the community about ideas for new forum events. Please share your ideas by emailing share@nurturenaturecenter.org
Community Forum Flyers: