You may hear about scientific discoveries or developments regularly in the news – from new images of black holes in space to new gene-editing techniques – but these findings can seem distant, foreign, and unrelated to your everyday local life. But what about science that affects your community?  Community science that helps with issues that you face on a daily basis – applying science to immediate, real life challenges?
What do I mean by community science? Community science is an evolving field that focuses on helping communities thrive through science engagement. It is based on the belief that co-created projects are essential for doing necessary work that is driven by community priorities, is informed by science, and is sustainable.  Projects can focus on a diversity of topics, including concerns about extreme events, land cover change, water quality, and more.
Citizen science, a movement that has gained attention recently, can be part of community science, but they are not one and the same.  Citizen science involves people helping research projects through activities such as bird counts, water testing, etc.  Community science has at its heart the community's priorities and is a collaboration between communities, scientists, government and other relevant entities. Community science addresses real world issues – the science informs the community about a need they have; science does not dictate what the community should prioritize at the outset.
Nurture Nature Center (NNC) has always valued community input in its work and maintains community dialogue as one of the three pillars of its approach: science, art, and dialogue.  NNC conducted several community projects that I have been a part of that have sought to understand community knowledge and priorities, including a community needs assessment completed in 2014-2016 (funded by the Institute of Museum and Library Services) and a current project educating local communities about hazards, while creating a community vision of resiliency (funded by NOAA OED Environmental Literacy Grant Program).
Building on this interest in a science and community focus, I applied for and was selected to be an American Geophysical Union Thriving Earth Exchange Community Fellow and attended a two day training in early December 2019.  Thriving Earth Exchange (https://thrivingearthexchange.org/) works with community leaders, scientists and funders to advance "community solutions," helping "scientists, community leaders and sponsors work together to solve local challenges related to natural resources, climate change and natural hazards."
Communities apply for support concerning an environmental issue or need, and AGU Thriving Earth Exchange staff and fellows match volunteer scientists to the projects.  Most projects are completed in 6-18 months.  Projects have occurred all over the U.S. and internationally. Examples of community science projects completed through the Thriving Earth Exchange program include mapping heat vulnerability in Missoula, Montana, assessing compound coastal flooding in Marin County, California, and remediating groundwater dioxane to mitigate pond degradation in Colebrook, New Hampshire.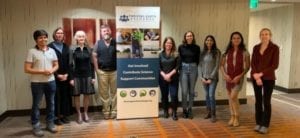 That's me on the far right with the other community fellows. 2019 is the first year that the Thriving Earth Exchange is running the fellow program, training earth science professionals about community science and how to scope, match, and facilitate projects.  I am thrilled to be in the second cohort of fellows and will work with the City of Takoma Park, Maryland to connect them to a scientist that can help with a GIS and modeling analysis of stormwater infrastructure capacity under different climate change and precipitation scenarios, so they can prioritize updates to be more resilient to future heavy rainfall events.
It is an exciting time to be involved in community science, as more and more communities and scientists discover the potential for this rewarding work.  What better way to use one's scientific skillset than to help with real world problems in local communities?  Communities benefit from connections, knowledge, and valuable input they would otherwise not be able to fund or acquire. Community science will only continue to grow and develop in the coming years, supporting communities as they strive to be resilient.
If you are interested in learning more about community science and how NNC is working in this field, email me at ksemmens@nurturenature.org.